Tinstar has been designing and producing customised, promotional year planners and calendars for 15 years.
Every year, from around about August onwards, orders for year planners start pouring in from both new and existing clients – and there are three very good reasons for this:
Year planners are excellent promotional giveaways, working for your business all-year-round
Year planners have an intrinsic value and can be sold individually
Some clients sell advertising space on them, making them profitable from the very start
1. Year planners are effective promotional tools that put your business in front of your clients all-year-round
We supply our customised wall calendars in quantities of 100 upwards. They tend to be purchased in one of three formats – flat packed, individually rolled into tubes, or rolled into tubes with a pen & sticker kit included. However they are received, our customers waste no time in distributing them by various means to their customers, or to a mailing list of potential customers.
Not all of them make it onto a wall – but the majority do – and they stay there all year round. Each planner design is customised to reflect our clients' corporate colours, look and feel – and, of course, clearly includes their branding and contact details.
These are the best adverts for a business – as practical tools, they're used every day – and they become a part of the office furniture, putting your company in front of your customers in their workplace. And because they're so useful, you'll be asked for another year after year, all of which helps to cement your client relationship and get more business.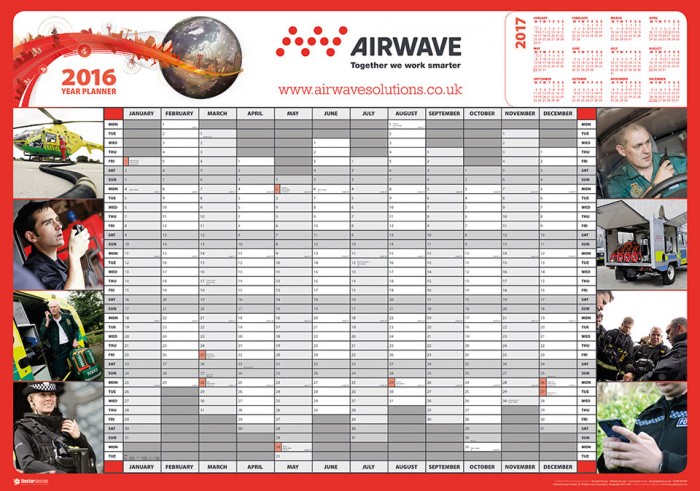 2. Year planners have an intrinsic value – they can be sold individually
We're always being asked for individual year planners. It's not cost effective to produce a single customised year planner; but we still get requests for very small quantities of year planners. We therefore create our own 'Tinstar Design' year planners that we sell via our small online shop. Our individual year planner customers just want a wall calendar for practical purposes – so whatever brand is on the planner will benefit from the attention that the year planner receives, year-round.
Year planners aren't restricted to simple calendars – we can produce academic year planners, staff holiday planners or industry-specific year planners – just drop us a line to discuss your requirements on 01590 679490.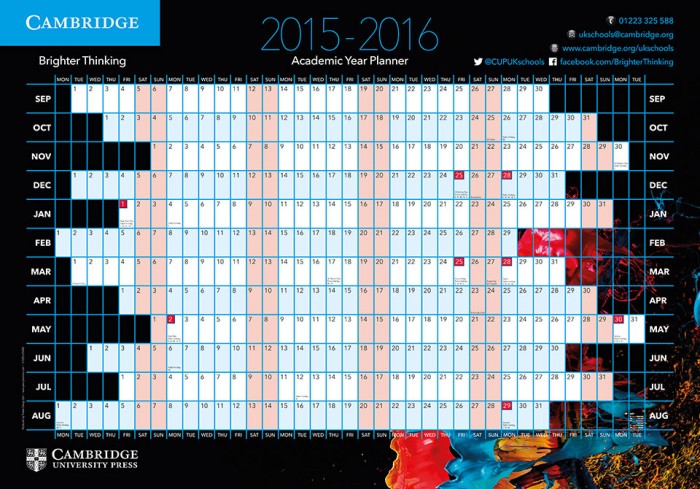 3. Businesses will pay for display advertisements on your custom year planner, making you a profit before they're even printed
Over the years we have worked with a number of year planner clients who sell advertising space on their year planners. The bigger the planner, the more potential ad space is available around the edges (our largest year planner size is 914mm wide x 660mm high).
The value of a display ad on a wall calendar can depend on various factors, such as circulation, method of distribution and target market – and each can sell for hundreds of pounds.
Particularly effective is the targeting of specific industries or professions – key dates relevant to whichever niche is being targeted can be added to the calendar, thus making it an even more valuable resource for its recipients.
Get a quote for your customised, promotional year planners
For instant online year planner prices, visit our year planner website. If you have something non-standard in mind, don't hesitate to drop us a line or complete our online quote form.