Tinstar's In-House Tools
Below are some of the tools Tinstar uses in-house (or used, depending on what year it is now…). For a reasonable timeless list of tools and applications we use every day, view this top ten list.
Maplin Digital DVR And Cameras
My natural reaction after having my bike nicked from outside my front door was to go security mad – long after the horse had bolted. This struck me as a very good deal from Maplin – a full digital video CCTV system. It all works very well, although so far all I have captured on film are lots of our furry and feathered friends. Lovely one of a pigeon in flight – worth every penny.

 Was in iPad inevitable?
Every time the genius company Apple releases a new techno-creature into the wild, I get excited. But with the iPad I was going to resist the temptation.
I'm one of the ones that bought a first generation iPhone the very day that it was released in the UK. And then I traded it in for an iPhone 3Gs the day that was released… but I feel that I'm running out of excuses for buying.
Not that the products are no good – they are fantastic. It's just that I have to ask myself what additional benefit I will get from buying them. The iPhone 4, for example, has (at the time of writing) this new 'Dick Tracy'-style video phone feature – but it only works if you have a wi-fi connection, and only then with someone else who has an iPhone 4. A new way to make new friends perhaps, but I don't think I'm tempted enough to get one yet.
The iPad is a tricky one though. It's an entirely new product (despite it's resemblance to a giant iPhone)… but why would anyone buy one? It looks and feels great, of course, but what would you use it for? This is the central question which I think will ultimately force it to better define itself – or die. I struggled to justify getting one.
But it's a giant iPhone! So I got one anyway.
A good little webcam for older Macs
Despite the fact that Apple computers are better for just about everything design-related (if you disagree, just pretend I didn't say it), it's sometimes surprisingly hard to find the right bit of kit for them. I've been hunting for a decent webcam for my working Mac Pro – sometimes a video call is required – and I recently came across this funky little War Of The Worlds-type gizmo.
The best thing about it is that it actually works… view the Hue Webcam on Amazon.
 Page Layout Software: Quark XPress
Quark XPress is one of the two major industry-leading page layout programs, the other being Adobe InDesign. Quark has been an invaluable tool in our arsenal since the beginning of the company, and it's always useful to keep our version as up-to-date as possible.
Quark XPress 9 is (at the time of writing) the latest addition to our library.
Graphic Design Software Suite
Probably the most invaluable collection of software available to a graphic design company, the Creative Suite package includes (amongst others) the big four: Photoshop, InDesign, Dreamweaver and Illustrator. Most of our work utilises one or more of these computer aided tools.
In-House Photography
The Cubelight lighting box has been an excellent addition to the Tinstar stable of gadgets. It's really simple to erect (but not so simple to put away!) and creates a completely white environment for product shots. We have a much larger version, about the size of a small tent, for larger objects and small people.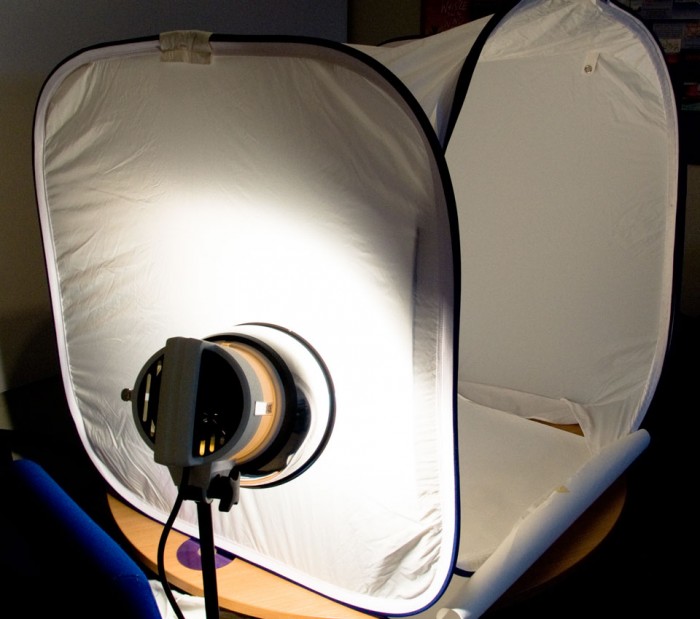 Canono PowerShot Pro
Photography has always been a hobby of mine, and whenever we get the opportunity to take photographs as part of a design project, I jump at the chance. High end, commissioned photoshoots we leave to our professional photographer, but if some quick product shots, PR events or any other last minute high quality photos need to be taken, we use our handy Canon Powershot Pro.
This is a cross between an SLR and a compact fixed lens camera. We chose it because it's great for taking macro (close up) shots as well as wide angle photos without changing the lens. I've always been a fan of the Powershot range, and had one of the original Powershot G1 cameras, upgrading them ever since.